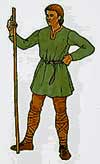 The last Roman soldier had left Britain by 410AD. Areas to the east and south of Britain had early invasions by Jutes, Angles and Saxons and much Christian practice and Roman learning died out. Life in our area to the west of the Severn remained much the same at first with Dymock probably absorbed into the kingdom of Mercia. The English kings of Bath, Cirencester and Gloucester were defeated by the Saxons in 577AD and Worcestershire and Gloucestershire east of the River Severn were occupied by a tribe called the Hwiccas, but Dymock and the rest of Gloucestershire to the west of the Severn remained free until 760AD, when the district between the Severn and the Wye also became Saxon. (Return to Top)

By the late Saxon period, England had been divided into Counties, Hundreds and Tithings. This can be considered as the beginning of the Parish system as we know it because the tithing consisted of 10 or more families who dwelt together and were responsible for each other's behaviour. The larger Saxon administrative area, the Hundred, can be likened to our Rural Deanery. Dymock had five Tithings and was situated in Botelau Hundred. (Return to Top)

Villages held a Folkmoot (meeting) presided over by Elders (Aldermen) which met on the Moot Hill (Castle Tump near Dymock?) to decide and order social life in the community. The Hundred Moot was drawn from the Eldermen of the surrounding villages and sent its representative to the county assembly and national 'Witan', or Parliament. The names of towns, villages and hamlets ending in 'ton' (a farm) or 'ford' (river crossing) are probably from this time, which includes the areas around Dymock of Ketford, Ryton, Ockington and Leddington. (Return to Top)

Arch to Saxon Monastery?
During Saxon times, the 'Manorial System' of service to your landlord developed. Dymock became a 'Royal Manor' owned by the king. The king's bailiff, or tenant in chief, would have lived at the manor house. In Dymock this was probably 'The Grange' or else in the Woodend-Boyce area, where the original 'Bois House' may have stood. (Return to Top)
Although most of Dymock church is Norman, parts are thought to be Saxon. There are some filled-in arches that now serve no purpose and speculation has it that these could have been part of an earlier Saxon monastery. (Return to Top)