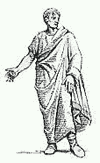 Excavations and chance finds show that Dymock was a major Roman settlement situated where the church and village now stand. There appears to be no record of Roman remains being found before 1949 but since that date, quantities of pottery and dressed stone have been discovered. Over 30 sites have now been plotted containing: pottery, glass, coins, metal and bone objects, slag, oyster shells and bones. The extent of the finds cover an area bigger than the present village, which suggests a good-sized town existed.
(Return to Top)
The excavated pottery is of a great variety, including samian, black, grey and brown burnished ware, and crude native pottery of the fourth century. The earliest dateable specimen is a small samian dish stamped to show it came from the wheel of Volus of La Graufesenque in south Gaul (France) in 35-55AD, it was found in the churchyard. (Return to Top)
The coins found also cover a large period, beginning with a denarius of Tiberius (14-37AD) and ending with a coin from the Constantine family in the fourth century. Selected samples are displayed in an exhibition case in church and others have been sent to museums including Gloucester and the Bodleian in Oxford. It's possible that some Christianity arrived in Dymock in Roman times but we have no knowledge about that either way.
(Return to Top)