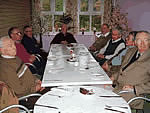 We had our latest Men's Breakfast on Saturday 11th May, when our guest speaker was the V. Rev. Stephen Lake, the Dean of Gloucester Cathedral. This month we had to meet in Rosies' Garden Centre as John and Linda, 'Mine Hosts' at the Beauchamp Arms Pub, were on holiday so we couldn't meet there as usual.
(Return to top)
After a full English Breakfast, Stephen told us briefly a little of his background - he came to Gloucester two years ago from St Albans Cathedral where he was 'second in command' - before he went on to introduce the Cathedral's new strategy 'Project Pilgrim'. There are three phases to the project - they were waiting to hear in 10 days time if their grant application to the Heritage Lottery Fund for £4.5 million has been granted towards the full cost of Phase 1, some £6million. The intention is to reach out better to the diocese, and especially to the city of Gloucester. To that end they're working closely with the City Council as part of the city's renovation plans.
(Return to top)
Gloucester Cathedral goes back over 1,000 years, it began as a monastery before it became a cathedral in the 1500s but fortunately the fabric of the building is generally in good order. Stephen is in charge of some 50 staff and a turnover of £2.2 million a year. They get around 300,000 visitors a year but the average donation is only 50p per person - you need a lot of 50p to make £2.2million, never-the-less he's determined they won't introduce an entry charge.
(Return to top)
Phase 1 includes a new entrance porch to let in more light to make the building more welcome, to provide a new stone font just inside the door (they're one of only 8 English cathedrals to have their own stonemasons' yard), and improvements to access for the disabled, especially to the Lady Chapel. The main part of this phase will be to replace the current car-park immediately outside the cathedral with an open 'piazza' as a public meeting place for open-air Services, cathedral & civic events and markets. They're negotiating with the city council to have subsidised or free car-parking in return in the council's car parks.
(Return to top)
The whole emphasis is on making the building better suited to the 21st century and a better integration between the cathedral and city events. Phases 2 and 3 will include a new shop and cafe to improve the visitor experience further and disabled access to every part of the building. In addition to all this, they're maintaining their active worship and music activities, including taking on a new director of choral singing to encourage their own junior choir before going out to support and advise parish junior singers.
(Return to top)