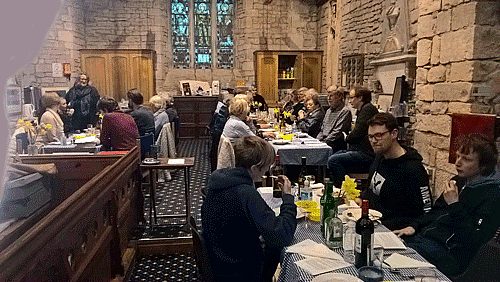 It had become our custom to have a benefice-wide meal and Service on Maundy Thursday evening to commemorate Jesus' Last Supper with his Apostles before he was arrested, crucified and rose again from the dead - but we hadn't been able to do so for the last two years because of the Covid-19 restrictions. However, we were pleased to be able to meet again this year to hold the traditional event.
Some 30 members squeezed into the North Transept in Dymock Church to share a meal of salads, cooked lamb, potatoes, quiches, sausages, deserts and cheese. Before and between each course of the meal there were readings exploring the Bible story of the 'Last Supper', and before the desert we shared bread and wine as Jesus did on that original night, which has become the Service of Holy Communion by which Christians remember him.
After the meal, we all moved to the Sanctuary area at the front of the church where we heard read the last part of the account where Jesus and his Apostles went to the Garden of Gethsemene, Jesus was arrested, and taken away. Following those readings, the altar cloths were removed and the candle extinguished and we all left in silence without further ritual, as is the custom for this event, mimicking the desolation the Apostle's would have felt after Jesus was taken away from them.
(Return to top)