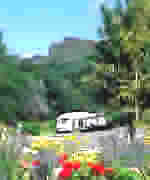 Hundreds of local branches, made up of grass roots volunteers, hold regular meetings to promote the organisation's aims among their members and to support local programmes and fundraising, but the Mother's Union also employs 300 people worldwide and works both centrally and locally on 'Programmes', 'Faith' and 'Policy'.
(Return to top)
Programmes: include work in prisons, parenting groups, AFIA ("Away From It All" holidays, usually in caravans, for families who wouldn't otherwise get a break), Child Contact Centres (creating a safe environment for children from broken families to meet with the estranged parent), women's refuge centres and local marriage guidance/preparation groups. Overseas programmes includes similar activities as well as Literacy and Development projects in Malawi, Sudan and Burundi to help people become literate, as well as the promotion of good hygiene and knowledge about HIV/AIDS. (Return to top)

Faith: includes providing resources for prayer, spiritual guidance, corporate worship and religious education. (Return to top)
Policy: includes helping families to find a voice to speak for themselves with colleagues and friends as well as in society, faith communities and the political arena.
(Return to top)